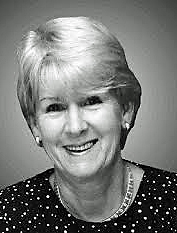 Veronica McSwiney was born in Dublin, Ireland, where she commenced her studies with D.J.J. O'Reilly at the Municipal School of music when she was seven years old. She gave her recital debut in Dublin at the age of sixteen and came to the attention of Sir Robert and Lady Dorothy Mayer, great entrepreneurs from London, who assisted her further studies at the Mozarteum Academy in Saltzburg under Bruno Seidlhofer, and in London with the eminent Hungarian teacher, Ilona Kabas.
By the time she was nineteen years old she had already played 6 different piano concertos withIreland's National Symphony Orchestra, then known as the RTESO. After her Wigmore Hall debut in London, her reputation spread far beyond her native Ireland. As a direct result of her highly acclaimed recording of the John Field Nocturnes, she was the first Irish pianist to be invited to do an extensive recital tour of the USSR in 1975, and was invited back for three subsequent tours, and played concertos with many of their finest orchestras. She has played extensively throughout Europe and the USA, and has also played with many orchestras in the UK,including the LSO, the CBSO and the BBC Philharmonic. Her repertoire of concertos included all 5 Beethoven, 5 Mozart, Grieg, Schumann, Rach. No2, Dohnanyi Variations, Two Mendelssohn, Two Liszt, Saint-Saens No2, Chopin E Minor, and John Field No. 2.
Through her involvement with Classical Music Cruises, she has formed a very successful partnership with Richard Baker and has also done numerous recitals at Festivals throughout Britain with their joint programmes on the lives of Edvard Grieg and Frederic Chopin. She is a very popular artist on board a number of cruise ships, where classical music is very much appreciated, particularly with P&O Cruises, Crystal, Celebrity and Radisson.
Apart from her solo work Veronica was always interested in working with other musicians, and for twelve years was Music Director of "IRISH NATIONAL OPERA COMPANY", a position that she says opened up a whole new world for her. She also has a great love of Chamber Music, and throughout her busy life performed with many great names, including James Galway, Alexander Baillie, Erich Gruenberg, Nicolai Gedda, Bernadette Greevy and many more. With Geraldine O'Grady, with whom she plays sonata recitals regularly, she formed the OIRFIA TRIO with the cellist David James.
Recently she has formed another chamber group, the EBLANA ENSEMBLE, which involves a number of musicians to accommodate all sorts of chamber works. In recent years she has been invited to sit on the jury of International Piano Competitions. She takes a great interest in young people and enjoys playing in schools and colleges. One of her biggest thrills is being involved in the competition for the "Young Musicians of the Future" here in Ireland. She has also adjudicated at some of our Music Festivals and finds it so exciting to find the wealth of talent in our country.
Having spent eighteen years living abroad she has returned to live in Ireland, in "a little piece of heaven at the foot of the Sugar-loaf mountain". Whilst still enjoying a very busy performing career, she now also has the opportunity to enjoy a lifelong hobby —– GARDENING. Her other great interest in life has always been animals, and she has two golden retrievers and five Persian cats. Recently she has taken a teaching position at the Royal Irish Academy of Music, which she finds very satisfying.
Despite her busy career, she still found time to marry and rear her three children, Karl, Judy and Aisling, all three of whom are involved in the Music profession. Her eldest, Karl is involved in a band, Judy, also a very talented pianist is based in Dublin, where she has a very successful career as a piano teacher and a much sought-after accompanist, and Aisling, a violinist and the youngest, was one of Ireland's "Young Musicians" and is enjoying a very successful career in Edinburgh with the Scottish Chamber Orchestra.