Winner 2013 Young Musician Competition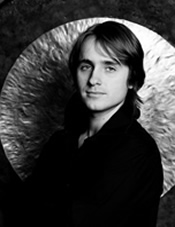 Alex Petcu-Colan is an Irish musician of Romanian origin who is quickly establishing himself as a percussionist of the finest calibre both nationally and internationally. Alex is completing the M.A. programme at the CIT Cork School of Music in 2013 and has recently returned from a period of Erasmus exchange study in Graz, Austria.
As a soloist, Alex has received both national and international recognition. He recently was awarded a Yamaha Music Foundation of Europe scholarship, received the third prize at the Irish Freemasons Young Musician of the Year 2012 and also reached the semi-finals at the Tromp International Percussion Competition, one of the world's most prestigious percussion competitions. In recent years he has performed many solo recitals featuring a wide range of repertoire, for the West Cork Chamber Music Festival, Crawford Summer Lunchtime Concert series and the Irish Composers Collective among others. He also recently performed as a soloist with the RTÉ National Symphony Orchestra.
Alex is also an active orchestral and chamber musician and frequently performs with the major ensembles in Ireland such as the RTÉ Concert Orchestra, Irish Chamber Orchestra, Crash Ensemble and more. He recently took part in the Lucerne Festival Academy, where he performed alongside members from Ensemble Intercontemporain and under the baton of Pierre Boulez. He is a member of the CAN Percussion Trio alongside Noel Eccles and Chris Stynes, which recently performed several concerts around Ireland as part of a Music Network tour.
Aside from his performing activities, he is also an educator and has taught at the CIT Cork School of Music, tutored the percussion section of the National Youth Orchestra of Ireland and given a series of workshops for West Cork Music's "Tuning Up" programme. He is also the founder of Cork New Music Ensemble, a dynamic new group focusing on contemporary music from Ireland and abroad.
Alex acknowledges support from Music Network through the Capital Scheme, 2012.