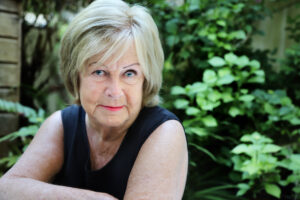 Jane Carty was born in Dublin, graduating with a B. Mus. Degree and a B.A. Degree in Music and Modern Languages, from University College, Dublin, as well as the Diploma in Music Teaching, receiving an Exhibition Award as a result of her B. Mus. Degree examination, having studied in Paris, Strasbourg and Perugia, Italy. She started her career as a teacher of Piano, Theory and Composition at what is now the TU Dublin Conservatory of Music and Drama. A singer, pianist and cellist herself, she presented and produced documentary music programmes for Radio from the major European Music Festivals during her subsequent career as Executive Producer for Radió Telefiś Éireann, Ireland's national broadcasting organisation. She organised and directed national competitions for choirs, singers, instrumentalists and composers, and was the Founder/Director of the RTÉ Musician of the Future Festival.
Her work as a singing, choral and instrumental Jury Member has taken her all over Europe, including, for many years, the Llangollen International Choral Eisteddfod in Wales, as well as further afield to Hong Kong and the West Indies.
For many years she has been a Member of the Media Jury of the International Hans Gabor Belvedere Singing Competition, Vienna, as well as organising, and being Jury Chairman at, the Dublin Qualifying Round of the Competition every year.
As well as being a Patron, she is also Artistic Director and Chairman of the Jury of the Irish Freemasons Young Musician of the Year Competition, for 3rd level instrumental students at our Colleges of Music who are studying for Degrees in Music Performance.
She has been a Member of the Board of Governors of the RIAM since the year 2000 and the regular Chairman of the Jury of the Veronica Dunne International Singing Competition since its inception. Jane has been the Chairman of the Jury for the Irish Qualifying Round of the Dublin International Piano Competition since the Competition began, a former Director of the National Concert Hall of Ireland and the National Youth Orchestra of Ireland and a is former member of the Repertory Committee of the Wexford Festival. She is also a recipient of a Jacobs Radio Award for her work in furthering and promoting the careers of Irish musicians, both in Ireland and abroad. In June 2010 Jane was awarded the highest honour the Royal Irish Academy of Music can give   The Fellowship Honoris Causa (FRIAM).